Recycling at Lawrence Company Headquarters
At Lawrence Companies, we do our best to be the "greenest" we can be! We have different departments at our Roanoke location that all play their part.
At the corporate headquarters, there are multiple locations that we are able to recycle plastic and aluminum at. These locations are the back porch of the original house, in freight, and the welding room/basement of the main building. When the bins are full, the recycling is taken to the Read Mountain recycling center. About once a month, we take a couple of bags there.
In the Household Goods Division, there are about 400 plastic office totes that we continuously reuse to help with office and industrial moves. The totes usage fluctuates throughout the year; there is no given time where they are used more often. Corporations, businesses, and law firms use these when they move to another office and/or lab. The Household Goods Division also recycles the used cardboard boxes that cannot be used anymore and send them off to a paper mill where they are recycled and reused for something else.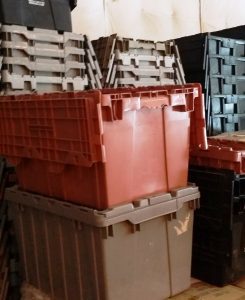 In the Shop Division, we recycle aluminum and steel. There are two large dumpsters located behind the shop that sort the two types of metal. We get all of the scrap metal from truck repairs and trailer fabrication. If any of the metal can be used for something else or doesn't have a return value, then the shop will place it in the recycling dumpsters. Varying anywhere between two weeks to a month, the shop will then take the scrap metal to a local scrap vendor, who purchases it by the weight, and the money goes towards the operating costs of the shop, which can be several $1,000s.
As you can see, at Lawrence Companies, we REDUCE, REUSE, and RECYCLE, anything and everything we can to make sure we team player in helping the environment we live in today!